The ICB's Craig Hawker is Elected to the National Academy of Inventors
December 19, 2015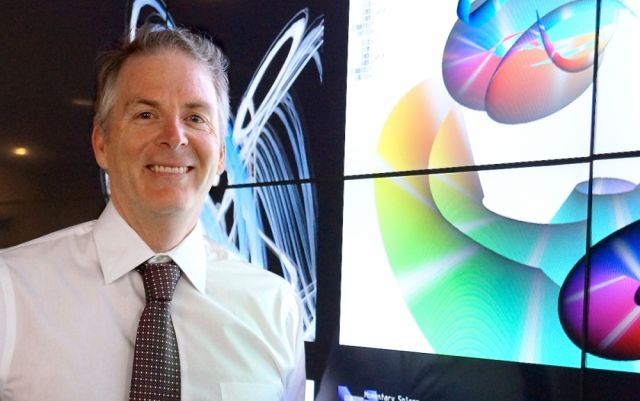 Professor of the Materials and also Chemistry and Biochemistry departments, Craig Hawker along with three other UCSB faculty members has been elected to the 2015 National Academy of Inventors (NAI) for his research in the design and synthesis of macromolecular structures and polymeric thin films, and the controlled assembly of nanoparticles. Work that is applicable in a wide variety of fields, from more efficient energy and data storage to improved semiconductor technology and advanced biotechnology.
The NAI states that election to Fellow status is a high professional distinction accorded to academic inventors who have demonstrated a highly prolific spirit of innovation in creating or facilitating outstanding inventions that have made a tangible impact on quality of life, economic development, and welfare of society.
Hawker, the Director of the Materials Research Laboratory, the California Nanosystems Institute and the co-Director of the Dow Materials Institute at UCSB is also the author or co-author of more than 400 publications and 50 patents and the recipient of numerous honors and awards, including election to Britain's Royal Society in 2010, the Centenary Prize from the Royal Society of Chemistry in 2013, and the American Chemical Society's national award in 2012.
"I am thrilled to accept this honor on behalf of the very talented students and colleagues that I have had the pleasure to work with during my career," said Hawker. "I am very proud of the important inventions and innovative products that have arisen from our collaborations with small and large companies alike."
Those elected to the rank of NAI Fellow are named inventors on U.S. patents and were nominated by their peers for outstanding contributions to innovation in areas such as patents and licensing, innovative discovery and technology, significant impact on society, and support and enhancement of innovation.
"It is my privilege to welcome the 2015 class of outstanding academic inventors to the Academy as Fellows," said NAI President Dr. Paul R. Sanberg. "These inspiring individuals have made remarkable contributions to society through their work in research and discovery as well as in patents, licensing, and commercialization. They encourage a culture where invention and innovation is brought to the forefront and it is an honor to recognize their tremendous accomplishments with NAI Fellow status."
The new NAI fellows will be inducted on April 15, 2016, as part of the Fifth Annual Conference of the National Academy of Inventors at the United States Patent and Trademark Office (USPTO) in Alexandria, Va. USPTO Deputy Commissioner for Patents, Andrew Hirshfeld, will provide the keynote address for the induction ceremony. Fellows will be presented with a special trophy, medal and rosette pin in honor of their outstanding accomplishments.
The 2015 NAI fellows will be recognized with a full-page announcement in The Chronicle of Higher Education Jan. 22, 2016 issue, and in upcoming issues of Inventors Digest and Technology and Innovation.