Craig Hawker Receives ACS Award for Entrepreneurial Success
August 18, 2020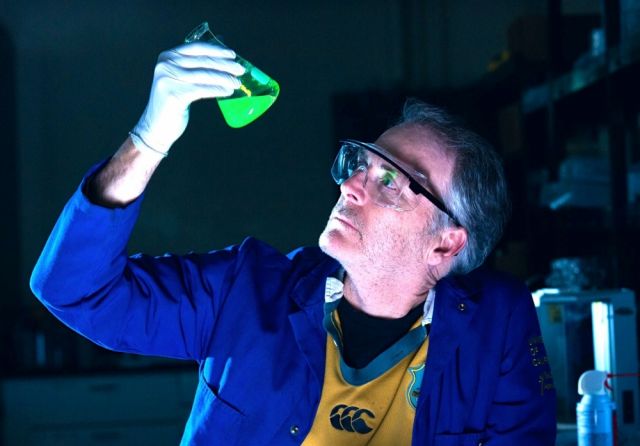 Congratulations to Craig Hawker, ICB project leader and UCSB distinguished professor of Materials, Chemistry & Biochemistry, for winning the 2021 Kathryn C. Hach Award for Entrepreneurial Success from the American Chemical Society (ACS). The award is in recognition of Hawker's "innovative leadership in creating, developing, and commercializing revolutionary polymer-based therapeutics and personal-care products through multiple successful start-up companies."
"This is huge. I personally put a lot of effort into my students, as well as into enhancing the entrepreneurial opportunities, success and recognition at UCSB and throughout the University of California System, which is what this award is all about," said Hawker, the Alan and Ruth Heeger chair in Interdisciplinary Science, who also serves as director of the California NanoSystems Institute (CNSI), the Dow Materials Institute and is facilities director of the Materials Research Laboratory (MRL).
The annual Hach award was established in 2012 to recognize an individual who created something where nothing existed before. In 1947, at the age of 25, Hach co-founded the Hach Chemical Company, which became instrumental in standardizing water-purification tests and pioneered many world-standard analytical instruments. Hawker said the award has special significance to him.
"I'm doubly honored and thrilled to receive this award because Kathryn Hach was such an inspiration, and even more so when you consider the current climate where diversity, equity and inclusion are more important than ever," said Hawker, whose research activities focus on polymer chemistry, and integrate cross-disciplinary studies with the development of materials having unique physical and mechanical properties.
In addition to advancing fundamental polymer and materials science, Hawker's groundbreaking research has also formed the basis for more than 80 U.S. patents and 10 start-up companies. A number of these companies have developed drugs to improve the quality of life for people who suffer from chronic kidney disease (CKD), e.g., Veltassa and Veverimer.
Hawker said that teamwork and reaching across boundaries have been constant themes in his career. The best example of this is the success of Olaplex, a company started with local beauty industry veterans and inspired by research conducted by Hawker and his former student, Eric Pressly. Working in Pressly's garage, Hawker and Pressly developed the patented Olaplex hair repair technology to prevent bleaching and coloring agents from disrupting disulfide bonds in hair. "We brought an outsider's viewpoint to a relatively mature field and looked at haircare on a molecular level," said Hawker.
Hawker's entrepreneurial success also made an impact on the health and safety of local healthcare providers during the COVID-19 pandemic. He used the connections that he made while at Olaplex to help solve the shortage of personal protective equipment and hand sanitizer in the Santa Barbara area. "To date, we have manufactured and distributed nearly 13,000 face shields to county healthcare facilities, at UCSB, and in the local community," said Hawker.
Professor Hawker will accept the award during a ceremony in March 2021, held in conjunction with the ACS 2021 Spring National Meeting in San Antonio, Texas. Hawker will receive a $20,000 prize and be featured in the official ACS publication, Chemical & Engineering News.