Collaborative Team Led by ICB Researchers Enables Simple, Rapid, Accurate, Inexpensive Covid-19 and Influenza Testing in the Palm of Your Hand
January 28, 2022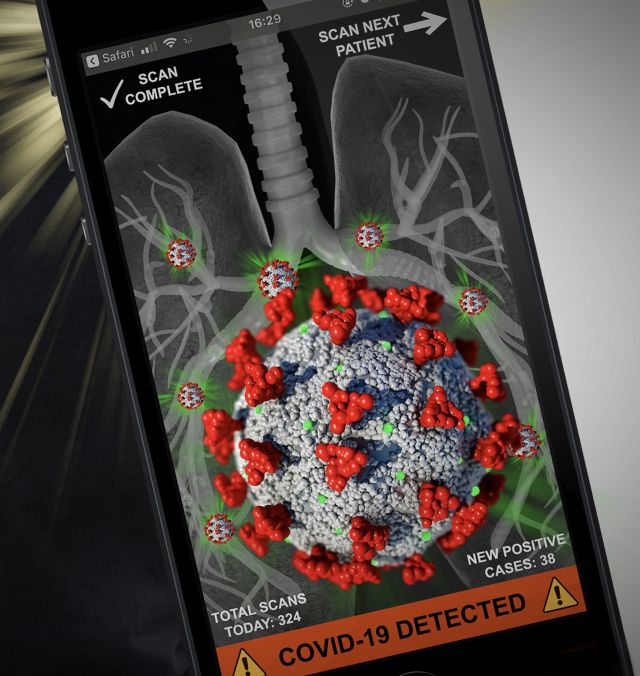 Two ICB project leaders, UCSB Professors Michael Mahan and David Low along with a collaborative research team have developed a new SARS-CoV-2 detection test that is among the most rapid, accurate, affordable and scalable tests available, with the potential to solve the urgent need for accessible testing in remote and resource-limited countries and settings. Consisting of a smartphone, smartphone app and a simple lab kit, the system also provides a reliable platform for inexpensive home-based testing.
The research team included colleagues from UCSB and Santa Barbara Cottage Hospital including UCSB Professor Charles Samuel and physicians Jeffrey Fried and Lynn Fitzgibbons. The team conducted a study—published in the journal JAMA Network Open on January 28, 2022—that set out to assess whether a smartphone-based assay was suitable for SARS-CoV-2 and influenza virus testing without requiring specialized equipment, accessory devices or custom reagents.
"As new COVID variants emerge globally, testing and detection remain essential to pandemic control efforts," lead author and ICB researcher Michael Mahan said. "Nearly half the world's population has a smartphone, and we believe that this holds exciting potential to provide fair and equal access to precision diagnostic medicine."
While there are currently numerous methods for the detection of SARS-CoV-2 virus, including molecular, antigen, serology and high throughput sequencing-based approaches, they have been limited in their application due to the need for specialized and costly laboratory instrumentation or have high false-positive/negative rates. Smartphones are also already in use but generally require the coupling of the mobile phone to specialized accessory diagnostic devices, custom reagents, or sophisticated protocols.
To overcome these current test limitations the team used a low-tech test, termed smartphone-based real-time loop-mediated isothermal amplification (smaRT-LAMP). A small volume of the patient's saliva is collected and analyzed by the smartphone app using the phone's camera and a simple diagnostic kit. No additional specialty materials are required. However, before moving forward the team had to overcome a long-standing issue of LAMP-based diagnostics.
"The key finding was solving the 'primer-dimer' problem—false positives due to high sensitivity—which has baffled scientists for more than 20 years," UCSB scientist Douglas Heithoff explained. "It took more than 500 attempts to solve it for COVID-19, after which flu viruses were detected on the very first try."
The researchers worked every day for almost a year and half to solve this historic basic science problem. Using a LAMP protocol that optimized experimental conditions for viral RNA stability and cDNA synthesis, which both increased sensitivity and effectively eliminated false positives due to primer-dimer amplification. In addition, the smartphone app imparts a 25-minute reaction time cutoff to distinguish specimen-sample amplification (early) from primer-dimer amplification (late).
"Often the enabling basic science challenges that get solved are those that are pursued relentlessly," said Dr. Jim Burgess, ICB program manager for the U.S. Army Combat Capabilities Development Command (DEVCOM) Research Laboratory. "By sheer brute force and trial and error, this team determined experimental conditions where only the target pathogen's genetic code is detected in a cost-effective assay format thus solving a problem that has stymied scientists for many years. The team's tenacity, grit and desire to make a difference during the pandemic paid off." 
The result—A new COVID-19/flu detection system that is among the most rapid, sensitive, affordable and scalable tests ever developed and can be readily adapted for other pathogens with pandemic potential including deadly variants of CoV-2 and influenza. The test can detect all current COVID-19 variants and can easily be modified as necessary when new variants evolve.
The new lab kit uses a smartphone camera and hot plate to measure a chemical reaction and then determines a diagnosis in 25 minutes—at a fraction of the cost of current diagnostic methods. The test is more reliable than the current COVID-19 rapid antigen test and faster, less expensive and as accurate as the current COVID-19 polymerase chain reaction (PCR) test. The diagnostics also work in bulk so that a group of healthcare professionals, entire soldier unit or group of airplane passengers could be tested at the same time.
"We hope technologies like this offer new ways of bringing state-of-the-art diagnostics to underserved and vulnerable populations," ICB's David Low explained. The research team is not filing for patents for the technology so that the software and lab kit can be available to anyone worldwide.
The free, custom-built app was developed for the Android operating system and can be downloaded and installed from the Google Play Store. Upon opening the app, the user is presented with an option for a step-by-step tutorial prior to running test samples.
Forbes News Article, Smartphone And Spit: A Game-Changing Test For COVID And Flu